Guest lodging and RV facilities at a family ranch in Wickenburg, Arizona
WE HAVE PUPPIES!
Ready to go to their forever homes in February, 2020!

For recent Ranch goings-on, visit us on
The
Bunkhouse
at
If you're looking for a relaxing sojourn in a warm climate
surrounded by beautiful mountain views
and vast stretches of unspoiled natural Sonoran Desert,
you won't do better than The Bunkhouse at Liberty Haven Ranch.


Our Big Back Yard
The Ranch
Liberty Haven Ranch is located in Morristown, Arizona -- an historic whistle-stop between Phoenix and Wickenburg, site of the first and largest gold strike in Arizona. Our elevation is higher, and temperatures run about 5° cooler during the day than the forecasts for downtown Phoenix, and much cooler after dark.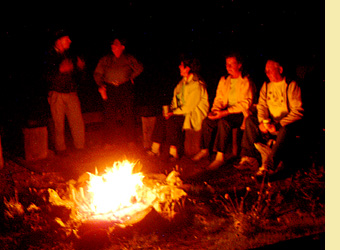 Shopping, restaurants, golf, and the other necessities of day-to-day existence can be found in Wickenburg, just a short trip west. In the other direction, major attractions, stadiums, and upscale bistros and boutiques are all available in the metro Phoenix area, starting just 25 miles down the highway. If you want a base of operations to explore the rest of Arizona, The Bunkhouse is a perfect choice.
Our gated residential area is private, quiet, and secluded, and sits among sage, saguaro, and cholla. However, the Ranch roadways open onto two major state and US highways, offering straight-line access to Wickenburg, Surprise (spring training), Glendale, Phoenix, Carefree, and Cave Creek.

The Bunkhouse
The Bunkhouse is a rustic two-bedroom, two-bathroom furnished guest house in the gated residential area of the Ranch. It is a manufactured home of 1,200 ft2, typical of contemporary Arizona ranches. The Bunkhouse is fully heated and air-conditioned; electricity and water are included.
A wraparound deck with shaded dining set and gas grill provides a superb view of virgin Arizona desert, and a handy gate allows immediate access to the outback from the fenced residential area.

Despite its evocative name, the Bunkhouse is not an accommodation shared by multiple simultaneous guests. It is reserved exclusively to one party at a time.
| | | |
| --- | --- | --- |
| | The modern eat-in kitchen includes an electric range, microwave, full-size refrigerator with icemaker, double-well stainless sink, and coffeemaker. An assortment of cookware, dishes, and cutlery is furnished for your use. | |
| | | |
| --- | --- | --- |
| | The open, spacious floor plan of the Bunkhouse includes two separate common areas for socializing, watching TV... | |
...or just curling up with a good book.

A separate dining area adjoining the living room opens from the kitchen.
The Bunkhouse sleeps six in total comfort. Linens are provided.

The master suite is furnished with a queen-size bed, and a private bathroom with double sinks and a large shower with seat.

Two twin beds comprise the second bedroom.

The queen-size convertible sofa in the living room provides additional sleeping accommodations, and sleeping bags are provided for groups larger than six.

A second full bathroom opens to the hallway outside the master suite.

The laundry room in the Bunkhouse includes an electric washer and dryer, plus a laundry tub.

The common area features a 49" flat-screen TV with DVD player, complimentary Netflix, and a vintage AM/FM/cassette boom-box.
---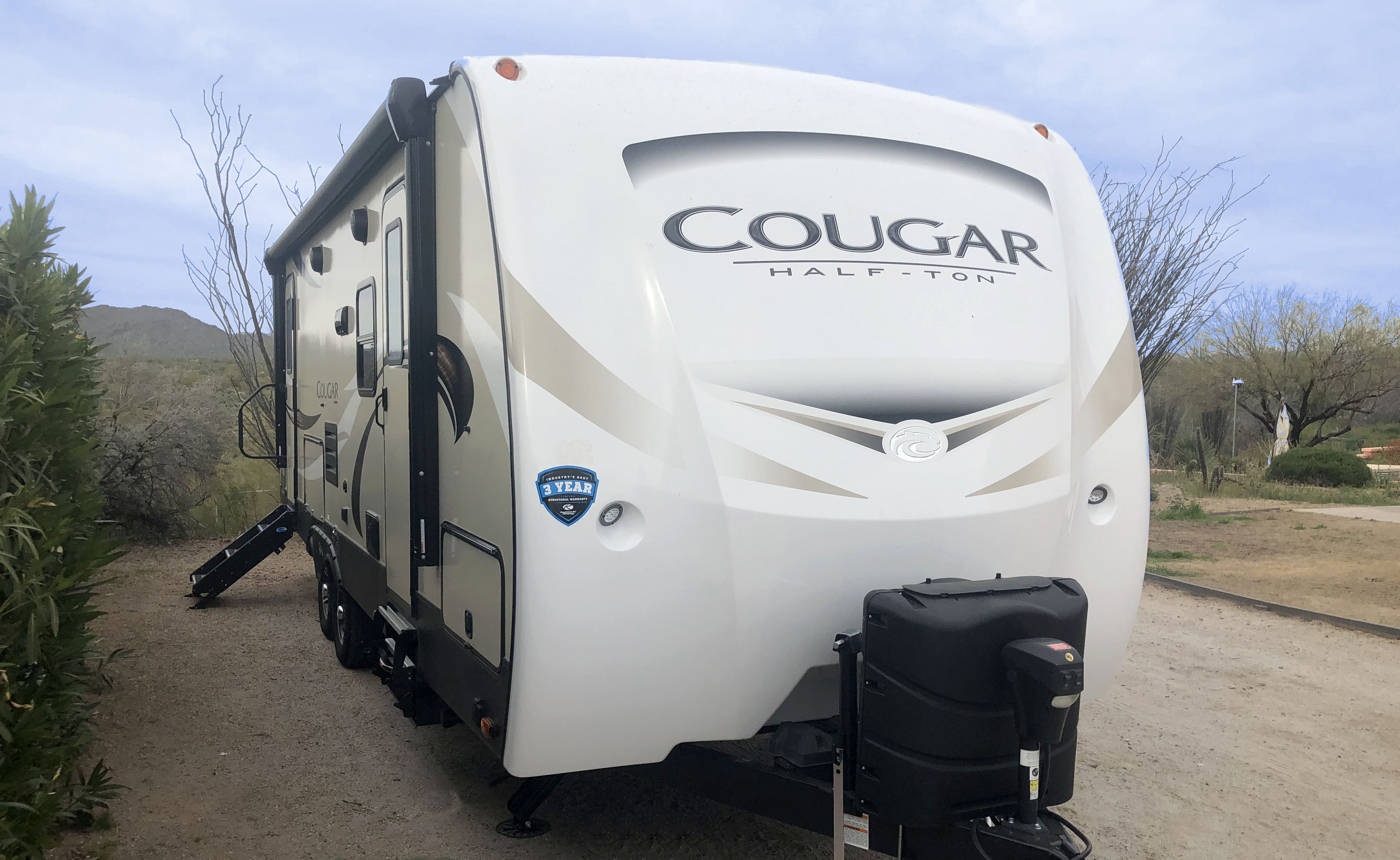 Deluxe Travel Trailer
For singles and couples planning shorter stays can we can offer comfortable, modern accommodation in our fully-furnished 2019 Cougar travel trailer.

See full details and more photos of our Cougar unit here.



---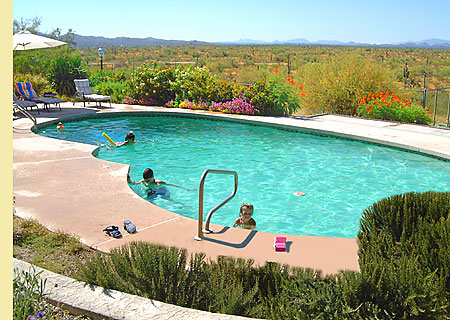 Additional Amenities
Swimming: Bunkhouse guests can take advantage of our heated swimming pool in season (typically mid-April through mid-October).

Shooting: Receive pistol and rifle instruction from an experienced NRA- and state-certified instructor. Take an introductory rifle and pistol course, or rent time on our 50-yard on-site range with gong, spinner, and paper targets. A 200/300/600-yard range is also available. (BYO firearm for non-coursework shooting.) Guests are expected to be familiar with and abide by all NRA safety rules (handouts and briefing available).

RVs: The Ranch offers four hookup spots with water and 30A power. There are also endless, spacious slots available for short-term "boondocking" (dry camping), with water available on premises. A free tank dump facility is provided onsite for our guests.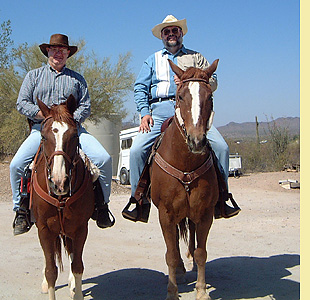 Horse Camping: Enjoy one of our spacious RV slots while you board your horse(s) in our clean and roomy pens or turnout corral during your stay with us. Plenty of extra parking for your horse trailer while you enjoy the trails, climate, and scenery at the Ranch.
Hunting: The adjoining public lands afford excellent hunting for quail, javelina, dove, cottontails, and the occasional mule deer. (Hunters are responsible for obtaining the appropriate licenses and permits, all available in Wickenburg or online.)
Stargazing: The Bunkhouse is far from city lights. The cloudless skies and desert air give you the same view of the night skies that the ancients had. The moon is more compelling, the meteor showers more exciting! Informal basic astronomy orientation session available by request.
Hiking/Birding/Nature Study: Besides the Ranch's own critters, who delight in your attentions, you can encounter and enjoy the hundreds of species of plants and animals who call the Sonoran Desert home. If you're geologically-minded, you can marvel at the purity of the local quartz and easily find petrified wood out in our outback. Or, go for broke and try your hand at...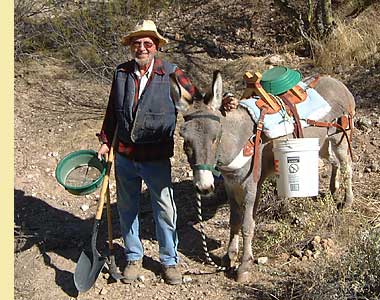 Prospecting: People are still finding huge gold nuggets in this vicinity, including a pound-and-a-half beauty found with a metal detector in Spring, 2003, out by the mountain that appears in our Ranch logo. (Yes, the guest in this photo found himself some gold, too!)
Internet: The Ranch is served by high-speed wireless internet. The entire Ranch is covered by a wireless "hotspot" for our guests' use.
Day Trips: Our central location makes exploring Arizona affordable and convenient. You can enjoy Sedona's scenery, Lake Havasu's London Bridge, Prescott's rodeo, Scottsdale's shopping, Mariners/Padres/Royals/Rangers' spring training games, Peeples Valley's cattle auctions, Quartzsite's RV festival, Phoenix's nightlife, Salt River tubing, and even Oatman's burros, and still be back the same night!
In deference to certain of our regular guests with sensitivities, the interior of the Bunkhouse is kept smoke-free and animal-free. Smoking is permitted on the decks, and local kennel facilities are available for pets.
We look forward to having you visit us!
---
Rates and Reservations

Check our online reservation calendar for an estimate of our availability (reservations shown are subject to change) -- then phone us at (623) 640-7880 with your proposed itinerary to assure availability of your chosen dates.

If your chosen dates are already taken, consider our deluxe trailer lodging, perfect for singles or couples, for shorter stays.

Significant discounts are available for high-season dates that are still unreserved within 60 days of arrival. Phone the Ranch at (623) 640-7880 for a quote.





OUR GUESTS WRITE:

J. and I got home yesterday and we just wanted to let you know again how much we enjoyed the our stay at your ranch. We wanted to say good bye Sunday morning... but Jennifer was getting so upset to have to leave Heidi and Honey that we decided to just hurry and pack up and go... before she decided she wasn't coming! I just can't tell you how much fun we had and how much J. especially liked the whole ranch. We do plan on coming back and staying again. Thanks again for all the wonderful stories and for being such nice people.
--V.M., Maryland

The view was spectacular, the accommodations comfy, and the hospitality warm and gracious.
--B.&J.L., Massachusetts

We hiked Vulture Peak five times, plus miles of your desert outback. We want very much to be able to come back next year.
--P.&J.L., Ontario

You have a beautiful piece of heaven here in Arizona. We all had a great time, and we would certainly love to stay here next time we are out this way.
--G.&L.P., California

What a beautiful place to be! Comfy and spacious, peaceful and quiet. The view is awesome. We had great fun playing with Fergus and Tracey, such well-behaved dogs. We just wish we were younger, and could have taken a horseback ride and a walk in the desert. Thank you for your hospitality.
--B.&E.S., Wisconsin

We loved the privacy and the animals. The desert greened daily. Wonderful weather. It was all that you advertised and more! Call us when 2005 reservations open.
--R.&T.K., Michigan

Simply superb! The attention to detail and the ameneties couldn't be better!
--J.&R.F., Massachusetts

We enjoyed our peaceful three-week stay. The home and views are wonderful. We will definitely recommend your ranch for a great getaway.
--S.&D.S., Arizona

You're always our first choice! Our second stay with you was just as enjoyable, peaceful, and quiet as the first. The roses are especially beautiful, and so large!
--O.&K.M., California

Wonderful accommodations. We enjoyed our stay! You thought of every convenience! We loved the beautiful starry night!
--L.&M.L., Arizona

RATES BELOW INCLUDE ALL TAXES

TERM AND
OCCUPANCY
OFF
SEASON
(5/1-9/30)
HIGH
SEASON
(10/1-4/30)
DAILY
1-2 PERSONS
$77.23
$162.81
3-4 PERSONS
$96.54
$203.52
5+ PERSONS
$128.72
$271.36
WEEKEND
1-2 PERSONS
$141.60
$295.10
3-4 PERSONS
$177.00
$369.01
5+ PERSONS
$235.99
$491.30
3-DAY WEEKEND
1-2 PERSONS
$193.09
$407.03
3-4 PERSONS
$241.36
$508.46
5+ PERSONS
$321.81
$677.95
WEEKLY
1-2 PERSONS
$353.99
$708.92
3-4 PERSONS
$443.03
$886.05
5+ PERSONS
$589.99
$1,181.04
MONTHLY
1-2 PERSONS
$1,150.47
$2,145.40
3-4 PERSONS
$1,438.49
$2,681.75
5+ PERSONS
$1,917.99
$3,575.31


RECREATIONAL
VEHICLES
POWER
& WATER
DRY
CAMP
DAILY
1-2 PERSONS
$25.00
$10.00
EACH ADDITIONAL
$2.00
--
WEEKLY
1-2 PERSONS
$150.00
$60.00
EACH ADDITIONAL
$10.00
--
MONTHLY
1-2 PERSONS
$500.00
$190.00
EACH ADDITIONAL
$30.00
--

HORSE BOARDING
$53.64/WEEK
FIREARMS INSTRUCTION
INQUIRE
Rates subject to change without notice.

Reservations require a 50% deposit. Deposits may be mailed to the Ranch, or (for a small surcharge) remitted via PayPal -- please call first to verify availability of dates.



---
LIBERTY HAVEN RANCH · PO BOX 400 · MORRISTOWN AZ 85342-0400 · (623) 640-7880

---