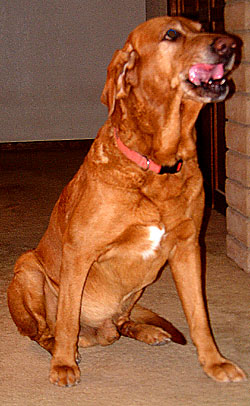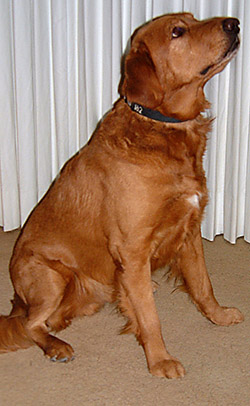 Luke
Fergus (1997-2011), founded our breedline. At a strapping 98 pounds (none of it fat), 27" at the shoulder, with a block head and fox-red coloring, Fergus was a "leg-leaner" who loved attention. Born to pedigreed parents in Massachusetts, he was with us all his life, and travelled cross-country in our RV nine times.

Heidi (born 2004) is 75 pounds, 24", ruggedly built with a blocky head, and obviously favors her Lab side. A first-generation mix born to pedigreed parents in North Phoenix, she is extremely bright (she opens sliding doors!), goal-oriented, and is an enthusiastic swimmer and diver, actually snorkeling after toys. Heidi produces a typical litter of eleven playful, lively, medium-large pups, and has assumed the role of conscientious nanny to everyone else's litters.

Our current breeding male, Luke, is strong, healthy, and playful at 95 pounds, 27" at the shoulder. Born January, 2004 at the Ranch to Fergus and Tracey, our original breeding pair, he is a second-generation mix. (Yes, the photo at the top of our page is Luke as a puppy.) He has his dad's fox-red coloring and his mom's Golden-style "feathers" on legs and tail, plus a beautiful white blaze. He is a happy-go-lucky "leg-leaner" who loves attention and is very eager to please.

Liberty Haven Honey Bear ("Honey"), has been registered as a Therapy Dog. She is loving, mellow, and obedient. Born July 2004, she has been at the Ranch since December 2004, coming to us from Virginia. She has a flowing red golden coat and boasts a champion ancestry. Though Honey no longer has litters of her own, she is an enthusiastic nursemaid and nanny to our other girls' broods. An avid TV-watcher, she enjoys informing us whenever a dog appears onscreen.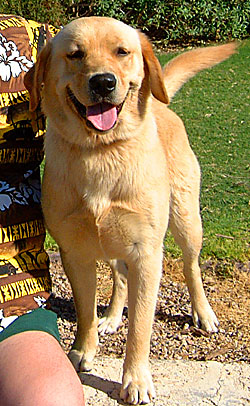 Honey Bear