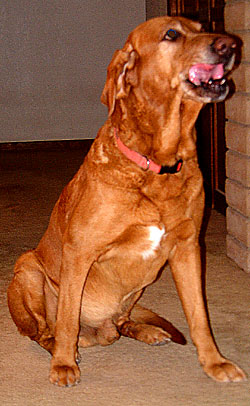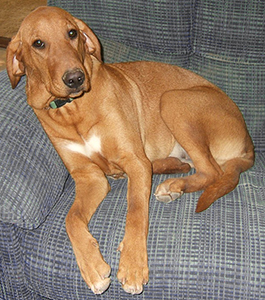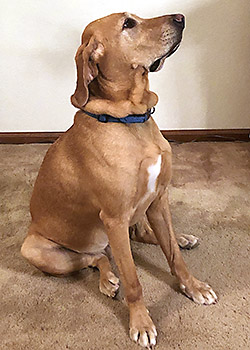 Big Dog
Fergus (1997-2011) founded our breedline. He was a strapping 98 pounds (none of it fat), 27" at the shoulder, with a block head and fox-red coloring. Born to pedigreed parents in Massachusetts, he was with us all his life, and travelled cross-country in our RV nine times.

Luke, by Fergus out of Tracy (2004-2015) was a second-generation mix, strong, healthy, and playful at 95 pounds, 27" at the shoulder. (Yes, that's Luke as a puppy at the top of this page.) He had his dad's fox-red coloring and his mom's Golden-style "feathers" on legs and tail, plus the beautiful white chest blaze that is a constant marker in our line. Like Fergus, he was a "leg-leaner" who loved attention and was very eager to please, and sired many puppies with Heidi, Honey, Sugar Bear, and Sandy.

Sugar Bear was born in April of 2012 to Luke and Marley, a Golden/Yellow mix dam from North Scottsdale. She is our Ranch greeter and comfort dog, and grins at all our guests. She mastered our pool at three months of age, and was an easy pup to train, seldom getting into any mischief, quickly learning to ring the hanging "jingle bells" to go outside. Sugar is our huntress, her amazing speed and agility making her the scourge of rodents, birds, and lizards as she sprints around the Ranch property. Indoors, she's a calm, loving snuggle-buddy with soulful puppy eyes, just like her dad and grand-dad. Sugar is past breeding age.

Bonnie was born in 2014 to Luke and Sandy. Our most enthusiastic swimmer, she "dock dives" almost completely across our pool after her favorite ball. At 21" and 65 lbs., she has the longest coat of all our current dogs, in deep fox red, with our trademark white blaze. She is extremely good-natured and obedient, and a wonderful mother.

Big Dog is Sugar's littermate, rehomed with us at age six under unusual circumstances. Other than his color, he is the spitting image of his grand-dad Fergus, at 97 lbs. and 27" at the shoulder. Not a breeding male, he leads our little pack, taking special pride at conscientiously patrolling our fence line and "defending" it from hawks, owls, and trash-talking coyotes. He taught himself to "point" rattlers, barking in a distinctive steady cadence, and continuing until one of us comes to collect it.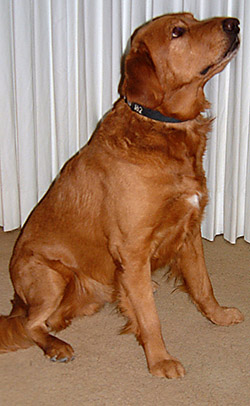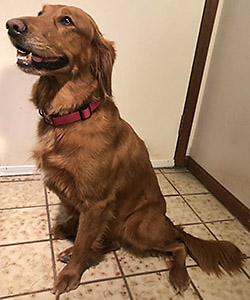 Bonnie